Recently, I feel like my life has taken a 180 degree turn and that all things have finally fallen into place. In fact, everything is so perfect and smooth that it feels like I am living in a dream. If someone would have approached me two or three years ago and asked me where I would be living in the future I probably wouldn't have guessed it would be where I am now.
A few months ago, my husband
@guccisimo
and I decided to start the journey of moving from Surrey back to downtown Vancouver. We started by noting the neighbourhoods and buildings we would like the most and by visiting SEVERAL open houses to narrow it down to a few select areas.
The process of moving was very intense as we had to list our Surrey place and hope that it would sell fast so that we could start living our dream of waking up to the Vancouver skyline sooner rather than later. Thankfully, we have a family friend and realtor who managed to sell our condo in under three weeks. At that point we could almost taste the sweetness of one of our biggest dreams coming true.
We started making appointments to see a few apartments we were interested in and we fell in love with one in particular at the Domus in Yaletown. The condo, the area and the transit accessibility were all great but the price was at the top of our budget. We knew we could stretch it a little bit so we made an offer. Our initial offer was not accepted and the seller was quite firm on her asking price (which now I thank God every day for... you'll see what I mean).
Due to the Domus' seller being so strict with her price and us having to stretch our budget to meet her halfway, my husband asked me if I would consider seeing one more place in Coal Harbour before finalizing our offer for the Yaletown condo. Not having anything to lose I agreed but I knew we had to move quickly as we could not afford to lose the Yaletown condo if the Coal Harbour one didn't work out. We ended up seeing the new condo that same evening. All I can say is that love at first sight does exist. We immediately fell in love with the neighbourhood, the building, the suite, and the ammenities. We felt extremely lucky to have found such a wonderful space just by chance.
To not make the story any longer than necessary... let's just say that I am typing from that same Coal Harbour apartment right now. It actually feels very surreal how one's dreams can quickly turn into reality if one chooses to act on them. I remember mentioning in passing to my friends six months ago that I would give anything to live in this area and that it would probably be a while before we could do it as we would have to sell our place, etc. But the moment is here, way sooner than expected, and I thank God every day for all I have in my life.
We can now walk to get our groceries, friends are over almost every day of the week, my commute to work shrunk from a dreadful 50 minutes to less than 15, and above all we are both happy and healthy.
If you have a crazy dream like mine, don't give up on it... fight for it with all you have and envision yourself already living it... you never know when Lady Luck is around the corner waiting for you to reach out.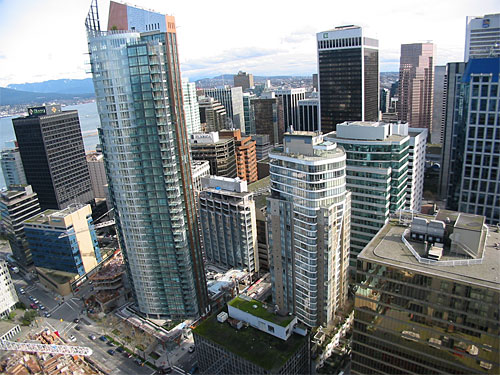 Subscribe via Email